Overview
The merger of social media, streaming platforms, wagering and competitive video gaming has provided a robust marketplace for investors, companies and traditional sports teams. However, as with any innovative disruptive force, legal and regulatory uncertainty and challenges continually arise. The Esports, Sports Technology & Wagering team at Stinson is uniquely positioned to provide clients with informed and reliable guidance in these specialized industries.
ESPORTS, SPORTS TECHNOLOGY & WAGERING
Our Stinson team is uniquely qualified to address the complex and dynamic needs of our Esports, Sports Technology & Wagering clients. We offer the experience necessary to provide full-service legal counsel to stakeholders throughout the esports ecosystem, including mobile gamers, leagues, franchise owners, broadcasters, advertisers, publishers, agencies and promoters, distributors, sponsors, investors, banks and other leading corporations and individuals.
In addition to our esports proficiencies, we are well equipped to assist sports technology businesses. Our team has provided guidance to companies throughout the sports technology spectrum, including those utilizing augmented reality, biometric data and blockchain.
The Stinson Esports, Sports Technology & Wagering team is passionate about our clients' businesses and we are able to provide critical insight and guidance – both traditional and emerging.
BETTING, GAMING INTEGRITY & FANTASY SPORTS
As more states enact laws surrounding legalized sports betting and daily fantasy sports (DFS), the Stinson team offers guidance on compliance in all facets of gaming laws, including the Travel Act, the Federal Wire Act, the Unlawful Internet Gambling Enforcement Act and the Indian Gaming Regulatory Act.
Moreover, since the passage of the Unlawful Internet Gambling Enforcement Act of 2006 (UIGEA), the rise of DFS has been quick but tumultuous. States across the country have interpreted certain DFS platforms against the backdrop of UIGEA and other state and federal gambling laws. Thus, it is critical to have legal advisors who are up-to-date on attorney general opinions and legislation throughout the U.S. that regulate or prohibit DFS to minimize risk exposure.
CAPABILITIES
The Stinson Esports, Sports Technology & Wagering team can assist with the following legal needs:
Funding / Securities
Family and friend's investors / seed capital
Angel investors
IPOs
Commercial lending and traditional financing
Venture capital, including introductions to venture capital investors, financial institutions, accelerator programs and alternative financing sources
Labor / Employment / Immigration
Employment agreements
Appearance contracts
Immigration visas
Intellectual Property
Online streaming rights and brand management
Advertising, promotions and sponsorships
Patent and trademark protections
Licensing agreements
Strategic Ventures
Joint ventures and strategic partnerships
Mergers and acquisitions
Regulatory
Data security, privacy and information governance
League participation agreements
Wagering and betting compliance opinions
Investigations and enforcement
Business and tax structuring
At the Corners Newsletter
At the Corners Newsletter
The sports marketplace has permanently changed, and Stinson is prepared to help you navigate these new challenges. Our quarterly publication, At the Corners, discusses relevant topics for you to stay in the game when it comes to esports, sports technology and wagering.
IN THIS ISSUE
Issue seven of At the Corners focuses on antitrust and competition laws associated with European soccer, next steps for sponsorship partners concerning the effects of the FTX fallout as it reverberates beyond the banking and financial services industry, and the legal status of recognizing college athletes as employees.
Do Not Pass Go: The Plight of New Soccer Competitions in Europe
By Natalie Nelson and Billy Price
Should competition law help shape the future of European football? A recent dispute between UEFA, FIFA and the ESL has the potential to impact other sports, clubs and players. European football is on the brink of change as strategies relating to antitrust and competition law evolve. As sports fans, spectators and consumers await a final decision from the European Court of Justice regarding the ESL, all will be watching closely to see if a European exemption to antitrust laws for soccer will be cemented, which would potentially represent a departure from Europe's historically strict approach to antitrust enforcement.
FTX Fallout: How Sponsorship Partners are Moving Forward
The downfall of FTX, once valued at over $32 billion, is resonating beyond the financial services and cryptocurrency markets. Sponsorship partners continue to enter bankruptcy courts for relief, resulting in significant disruptions within the sports and entertainment industries and their marketing departments. FTX's rise and fall highlights the potential pitfalls for those who have collaborated with various cryptocurrencies and/or exchanges, the importance of minimizing exposure with careful attention to federal and state advertising and promotion regulations, as well as legal counsel skilled in these rapidly developing industries.
Pay-for-Play: The Status of College Athletes as Employees
By Grant Mulkey and Austin Tapuro
College athletics are in a state of flux as uncertainty concerning federal regulations and the NCAA's NIL policy remains. Are college athletes considered "student-athletes" or "employees" of their respective colleges and universities? The definition of who is and is not an employee has been the subject of many political debates and has been a focus of the Biden Administration's labor appointees. Recent court cases and NLRB actions indicate significant momentum toward classifying student-athletes as employees and increasing employment rights for college athletes.
If you would like to receive more information on these and other Esports, Sports Technology & Wagering topics, please subscribe to our quarterly At the Corners newsletter.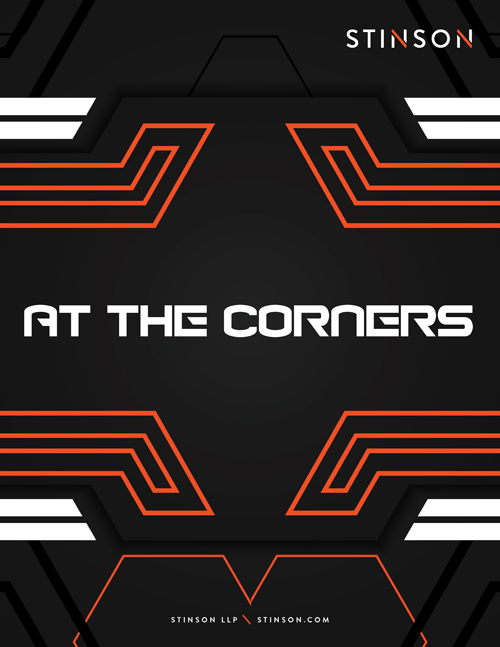 Previous Issues
Issue 6 - September 2022
Meta Bags: NFT Complications and Considerations for Traditional Brand Owners
Pass Interference: Potential Tax Implications of NIL Collectives in College Sports
Issue 5 - April 2022
Music Licensing in the Age of TikTok
Running a Legal Sweepstakes or Contest in the Esports and Online Gaming World
Show Me the Tokens – Using Cryptographic Tokens to Activate Fans
Issue 4 - October 2021
The Anti-Cheating Movement: Ridding Esports of Cheats
Esports Teams Face Enemy Fire from State Talent Agency Acts
A Dollar and a Dream: Student-Athlete Compensation in the Aftermath of U.S. Supreme Court's Alston Decision
Issue 3 - May 2021
Biometrics in the Ballpark – How Teams and Leagues Can Mitigate Data Collection Risk
The First Circuit Rules that the Wire Act Applies to Sports Betting Only
Morality Clauses in Contracts are Escape Hatches for Streaming Sponsors
Issue 2 - November 2020
What's Loot Got to do With It?
Should Investors be Wary of Esports Arenas? Traditional Stadium Litigation Hints at Risk
An Overview: Colorado's Expansion into Legalized Sports Wagering
Issue 1 - August 2020
A Victory for DFS and the "Predominate Factor Test"
There is a Price for Athlete Data