Clients want pricing options.
Clients want efficient legal matter management and controlled costs.
Clients want progress updates and more importantly, no surprises.
With an experienced Legal Project Management (LPM) team comprised of individuals holding JDs, MBAs and PMP® certifications, we know the business of law. Stinson's LPM team has over 70 years of combined experience in project management, with strong proficiencies in the legal, financial and technology sectors. Our LPM team works seamlessly with Stinson's attorneys, aligning pricing options and matter management strategies with clients' business goals.
Our LPM team is a value-added service that provides price predictability, budget transparency and streamlined matter management, helping clients control legal spend and meet business objectives without sacrificing quality.
What We Do
Stinson uses principled project management practices and leverages industry knowledge, technology, robust data gathering practices and a talented group of project management professionals to evaluate and determine the best approach for each matter. Our process includes creation of formal matter plans, which are tailored to meet each matter's unique requirements. These plans are used as "roadmaps" to ensure we stay aligned with client expectations as we execute our work.
How We Do It
We systematically evaluate each legal matter to determine the scope of work, key assumptions and staffing model, and then create a clear and actionable project plan. Whenever possible, we leverage our past experience and data to inform our approach.
Our LPM team collaborates with clients to structure pricing arrangements that make business sense to their organizations, including alternative fee arrangements such as blended billing rates, volume discounts, fixed fees and success-based arrangements. We coordinate closely with client legal teams and monitor adherence to matter plans. We deploy communication plans to ensure clients receive status reports and critical updates via their desired medium with the necessary details. At matter completion we gather client feedback and matter outcome data to ensure we leverage our experience in future matter plans and continuously improve.
---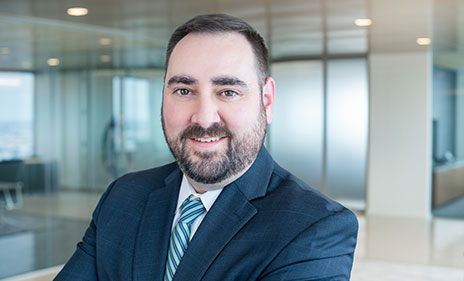 Brendan McInerney
DIRECTOR OF STRATEGY AND INNOVATION
---
For questions, regarding Stinson's LPM Services, contact Stinson's Director of Strategy and Innovation, Brendan McInerney.